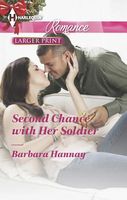 One last chance?

Returning from the front lines, Corporal Joe Madden clutches his divorce papers. After a series of heartbreaking fertility problems, he knows his once perfect marriage is set for the final curtain.

It might be three years since Ellie has seen her husband, yet his power to make her heart race is just as strong. But he's only passing through, and all that's needed is her signature….

Until the rain begins to fall on Karinya Station and there is nowhere to escape. Could a Christmas peace treaty and a magical few days bring the sparkle back into their marriage?
Good second chance story for Joe and Ellie. They had married young and quickly after meeting. Things went well at first until Ellie's inability to get pregnant caused her great stress and depression. She started taking her frustration out on Joe, picking arguments. Joe finally offered to give her a divorce and joined the army to leave her in peace. He told her to wait to file the papers until after he was done with the army so if something happened to him she would get the benefits. While he was gone she also used one of the last chances they had for IVF and had a succesful pregnancy. Once he came back they would file the papers. The day he arrived there was a lot of rain and the river flooded, trapping Joe. They had to find a way to live together in peace.
Ellie has done a marvelous job running the station on her own and raising their son. She worries about Joe staying there because she realizes that she still has feelings for him. I liked seeing the way that she made a real effort to change the way she treated him. Those feelings and something she sees in his eyes makes her think about the past and what went wrong. I loved the way she took an honest look at herself and realized that part of the problem was a lack of trust on her part. She had been taking those issues out on Joe without realizing it. Her desire to see if they could start over caused her to open up somewhat to Joe and admit her feelings. She also realized that they had both grown up over the past few years and could be better able to deal with their problems.
Joe had loved Ellie from the beginning and nothing had really changed there. He had left for the army as a way to escape their troubles. His life in special forces enabled him to stay busy enough that he could avoid thinking about her too much. When he arrived at the station to sign the divorce papers he was reminded how much she had meant to him. He also was seeing his son for the first time in more than a year. When he got stranded because of the rain he had to face his feelings. I loved seeing the way he and Jacko bonded so quickly, even though Joe hadn't expected that. Joe also found himself thinking about what it would be like to stay and start fresh with Ellie. His idea of a truce between them was inspired and gave them a chance to get to know each other again. He was also able to explain to her why he had chosen the army and what had driven his actions. I loved seeing them grow closer and overcome their past problems to find a happy future. I liked the last little twists at the end.