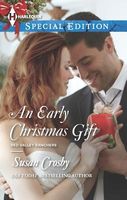 Series:
Red Valley Ranchers
(Book 3)
The Capulets and the Montagues had nothing on the Ryders and the Morgans! But despite the fact that each one was from one of the rival ranching families, Jenny Ryder and Win Morgan had a passionate summer affair four years ago -- one that resulted in pregnancy. They got married and promptly lost the baby. Heartbroken, Jenny let herself be talked into divorcing Win…without ever having revealed the marriage to her family -- or his.

Now Jenny's back, and one impulsive night means that Jenny and Win are about to be parents again! This time, they have to fess up. Their future happiness and child depend on it. But Win is keeping his own secret -- that "divorce" he and Jenny supposedly got might not be worth the paper it (wasn't!) printed on….
Good book about second chances and trust. I really liked both Jenny and Win. Their brief summer affair had affected them both. Because of her pregnancy they had married in secret, but split right after she lost the baby. Jenny has finished college and has plans for her future. When she sees Win for the first time in four years, their reunion turns physical in a flash. With their families still not getting along, having any kind of relationship will be difficult, but the pull is still there. Then history repeats itself and Jenny is pregnant again. Finding out that Win never filed the divorce papers is a shock to her, but even more so to their families. Now that Jen and Win are planning to make a go of their marriage they have to take the time to get to know each other and see if this marriage has a chance.
Jenny has come home with big plans to have a lavender farm. She's very independent and doesn't want to rely on her family for financing so tries to get a bank loan. When she's turned down she is upset and manages to drive off the road on her way home to her parents' house. Win finds her and they speak for the first time in four years. Their attraction is still there and they have a hot and heavy reunion before calling for help to get her car out of the ditch. Because of their family feud Jenny sends Win off before her father and brothers arrive. She realizes that she has never gotten over her love for Win. With her plans in limbo, she works with her sister-in-law (The Cowboy's Return) on her organic farm. Over the next several weeks she and Win find ways to be together a bit. When she discovers she's pregnant she's also stunned to find out that Win had never filed the divorce papers and they are still married. She worries that Win is only staying married to her because of the baby, while she is very much in love with him. I liked the fact that Jen really wanted their marriage to work. She loved Win and was trying to do everything she could to show him how much. There are some great scenes with Jenny trying to make her point. She couldn't bring herself to tell him that because she feared that he would reject her, the way she felt rejected four years earlier. I also liked the way that she held on to her dreams of the lavender farm, but also realized that the dreams needed to be adapted to her new reality. I also loved the way that she stood up to Win's father about his attitude. She did a bit of growing up by the end of the book as she and Win were finally able to be completely open with each other.
Win has been in love with Jenny from the beginning though he didn't realize that it was love he was feeling. He just knew that he wanted and needed her. He couldn't bring himself to divorce her four years earlier and now has to find a way to tell her. Their reunion makes him realize that there are still feelings between them and he starts finding ways to spend time with her. When Jenny becomes pregnant he tells her about the non-divorce and insists that they tell both families about their marriage. I loved the way he insisted on full disclosure to her family. His nervousness was understandable considering their family histories, but he stood up anyway. I loved his confusion around all the Ryders, since he had never seen a family interact the way they did, with obvious love for each other. He was also surprised at their offers of help on his ranch considering the feud. His own relationship with his father was rocky at best. I liked seeing Win standing up to his father and trying to make him understand. I loved the way he got his chance to show his dad what could be done. I loved the way that Win tried so hard to take care of Jenny. He was so afraid of causing her harm that he tried to resist her efforts to get him into bed with her. Win was also trying to show Jenny how much he cared by trying to find a way to make her lavender farm dream come true. I loved seeing the way that they worked things out at the end.