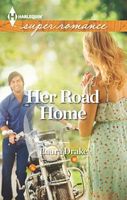 Series:
Widow's Grove
(Book 1)
No white picket fences for her!

It's not in Samantha Crozier's DNA to ignore the call of the open road. The wind in her hair and the pavement beneath her bike are all Sam needs. Until she crashes into Widow's Grove and the arms of Nick Pinelli, that is. Nick is gorgeous, and pure temptation -- temptation Sam is determined to avoid. But with her motorcycle totaled, she's here for a while. So she comes up with a plan to renovate an abandoned house. Once that's done, she's gone.

However, the plan quickly backfires. She can't find any resistance to Nick's charm. Worse, for the first time, the house she's working on is beginning to feel like a home. Her home. And she knows that's all because of Nick.
Good book. Sam lives for the open road. A contractor by trade, she goes from town to town, finding a house to renovate, sell, and then move on. A rainy night near Widow's Grove has her crashing her bike and being stuck in town for awhile. She finds a house that's crying out for her talents, and a bike mechanic who knows his job. He's got a boatload of charm that has her considering other options, if she can just get past her reasons for a life on the road.
I really liked Sam. She an intelligent and tough biker chick. She also has an unusual job for a woman. When she ends up in Widow's Grove she knows that she'll be there for awhile waiting for her bike to be repaired. When she finds an old Victorian house that calls out to her for help, she makes her plans to stay awhile. Sam is a loner who usually does all the work on her houses by herself. Because of her injuries she knows she'll need help. She also doesn't get involved with any of the people in the towns she stays in. But in Widow's Grove she finds herself behaving in a very uncharacteristic manner. First she is drawn to Nick, the mechanic who is working on her bike. She is comfortable with him as long as he doesn't try to get too close. Sam makes sure he knows that she won't be staying past the time the house is finished. But she finds herself growing closer to him and telling him things she's never told anyone else, things that still affect the way she lives her life. I loved the way that Sam and Nick became friends first, even though they admitted their attraction to each other. Because of events in her past Sam has problems with letting Nick get close. She will do well for awhile but then something will pull her away again. He awakens her need to be loved, something she didn't even know she wanted. And that need started her dreaming of having more if she could just trust herself and Nick. Sam also discovers a talent for mentoring as she hires three teenagers to help her with the house. I loved seeing the way that while she was teaching them about construction she was also teaching them about personal responsibility. She also came to care for them in a way she'd never felt before. I also loved seeing the way that she made friends with Jesse, who became the sort of friend she had never had before. I had to laugh at the way Jesse would drag Sam shopping and doing other "girly" things. The arrival of the dog in her life was a great touch of humor and heartbreak as he made a place for himself in Sam's heart. I loved the way that her life in Widow's Grove starts to heal her heart and soul, especially after she makes the decision to talk to someone and get help. Her journey was slow and sometimes painful to see. I loved seeing her take control of her life at the end and learn to trust herself.
Nick has had his own demons to fight. He had a rocky childhood and made some bad decisions as a youth that took him away from Widow's Grove. When he got himself together he came back home and opened his repair shop and started living a better life. He has earned the respect and love of his friends. Sam's appearance in his life makes him remember some dreams he's put aside for a long time. He sees the gorgeous, tough biker chick on the outside, but he also sees the Sam she doesn't show the world. I loved the way that he sees her fears and doesn't try to steamroller over them. He has incredible kindness and patience as he helps her face her fears. I really liked getting Nick's point of view during the story, and seeing his thoughts on how to help her. Helping Sam also helps him face his own problems, if only he can get her to stay.
I loved the feeling of real life throughout the book. I really felt as though I could meet any of these characters in my own town. No one was perfect but they were there for each other.