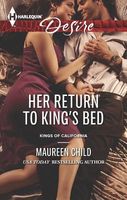 Series:
Kings of California
(Book 14)
She married him. Used him. Then left him. Rico King has waited five years for revenge. Now he's got Teresa Coretti where he wants her. To save her family, she'll return to Rico's island…and his bed…for one month. That will cure the hunger that's afflicted him since she left….

But Rico can't know what it cost Teresa to leave him. Nor the exquisite torture of being with him again. Because soon, her divided loyalties could once again cost her the love of her life.
Very good book. Rico has been waiting for a chance to get his revenge on Teresa for what he saw as her betrayal. He hasn't been able to forget her and this will be his chance to get her out of his system. Meanwhile, Teresa hasn't been able to forget him either. She regrets the choices she made but at the time didn't see what else she could do. Now both of them have to decide whether pride is more important than love.
I liked both Rico and Teresa. Teresa had been raised in a family that had been thieves for generations but when she became an adult she made the decision not to participate in that lifestyle. Her father and brothers didn't understand, but eventually respected her decision. When she met Rico the heat between them was instant, and they jumped into their relationship. Their marriage happened quickly and she never got around to telling Rico about her family. When they showed up and stole a priceless family heirloom from Rico she was furious and tried to get them to return it. When he discovered the truth he accused her of using him for her family. Her disappearance added fuel to that fire. When she showed up once again trying to stop her family she found Rico ready for her. Once again her family had gotten her in trouble with him. This time she had to submit to his blackmail. I loved seeing the way that she admitted to herself that she knew she had taken the chance knowing that he would likely catch her. She regretted the changes in him that she blamed on herself. During the month that she has to stay with Rico she decides to make the best of it and create memories to take with her when she leaves. She and Rico start to get to know each other better than they had before and things start to change between them. Her love for Rico only gets stronger and she is fully aware of how unhappy she will be when she has to leave him behind again. There were several points where she stood up to her family that were really great. I also loved the way that she became part of the life on the island and at the hotel so easily. When she has to choose again, she has to decide who is more important to her - Rico or her family.
Rico hasn't been able to forget Teresa since she left him. He couldn't believe that she had betrayed him like that. Because of past experiences he can't stand to be lied to and all he could see was that she had lied to him. When guests at his hotel have expensive jewelry stolen he suspects her family of doing it. I loved the way that he figured it out and went to confront them. He saw it as the perfect opportunity to force them to return his artifact and to get Teresa back in his bed. He refuses to trust her and plans to keep her with him at all times. What he doesn't expect is the effect that plan has on him. I loved the way he explains it to his cousin Sean and then Sean laughs at him and tells him how much it will amuse him when it all blows up in Rico's face. Rico isn't amused, but soon realizes that Sean was right. Rico can't figure out what Teresa's plan is, why she's making friends left and right with the hotel employees and even his family. Being with her is starting to make him think that maybe he had misjudged her all those years ago. He finally admitted to himself that he still loved her, but couldn't bring himself to tell her. I loved the concluding scene with Teresa, Rico, and Teresa's brother.