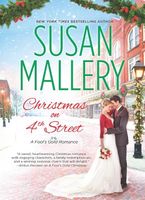 Series:
Fool's Gold
(Book 14)
Noelle Perkins just got a second chance at life, and she intends to make the most of every minute. That's why she ditched a frustrating legal career to open her own store in Fool's Gold, California. The Christmas Attic celebrates everything that's magical about her favorite season. Business is booming, and as a bonus, gorgeous army doctor Gabriel Boylan has offered to help out during the holiday rush.

Gabriel's memories of Christmas past contain more sour grapes than sugar plums, thanks to a drill sergeant father who ran his home like a boot camp. Spending the holidays with his family while he recuperates from injury sounds as appetizing as last year's eggnog. Still, there are some enjoyable distractions in town, including sunny, sexy Noelle…and the red-hot mistletoe kisses they can't stop sharing.

Gabriel didn't think he was made for happily-ever-afters. But when fate hands you a love as sweet and surprising as this, only a fool could refuse….
Excellent holiday story. Noelle is settling in to her first holiday season with her new store. She has made some good friends and she loves her new hometown. While doing a favor for her friend Felicia and her fiance Gideon (Two of a Kind) she encounters Gideon's brother Gabriel. There's an immediate connection between the two of them. Gabriel is an army trauma doctor who is home recovering from an injury, but who hasn't spent time with his family in years. Spending time with Noelle is just what he needs to keep him sane.
Noelle is attracted to Gabriel and he is attracted to her, but he is trying to keep his distance. His work in the war has caused him to avoid any kind of commitment. He looks at relationships and thinks that something could happen to end it with no warning, so it is easier to avoid the risk altogether. He sees Noelle as the type that wants the whole marriage and family thing and he doesn't want to hurt her by getting involved with her. But he finds it impossible to stay away from her as her cheerful personality helps him find his own way.
Gabriel has always had a rocky relationship with his father, who never understood his son's resistance to a life in the military, and didn't approve of his choice to be a doctor instead of a soldier. I liked seeing the dynamics of the parents and the sons as they adjusted to the changes in all their lives. I really didn't like Gabriel's father at first, but Fool's Gold had its effect on him also as his eyes were opened to the mistakes he made and what he needed to do to change.
Gabriel's time spent with Noelle begins to change the way he looks at his future. She starts to break through the walls he has built around his emotions. The people of Fool's Gold are very different than anything he is used to and he's not quite sure how to deal with them. He is at a crossroads where he needs to decide if he's going back to being a military doctor or go in a different direction. But he's not sure what he should do and the idea of opening himself up to emotional risk makes him panic and run. I loved the way he finally realized what he was doing and what he had really wanted all along. His reappearance at Noelle's was very satisfying.
Noelle has lived through some challenges in the last few years. She lost her mom and grandmother in an accident, had some serious health issues, and was abandoned by her fiance. In spite of all these things her outlook on life is that you never know what might happen so you should live your life to the fullest. She looks at each day as a new adventure and meeting Gabriel is just one more thing to enjoy. I love the way that she sees his need for an escape and gives him a job with her at her store. She accepts his assertion that he doesn't do commitments and is there for him anyway. The more time they spend together the more she can see of his struggles. Her attraction grows into love, even though she knows that he won't be staying in Fool's Gold. When his fears finally get to be too much, she admits her feelings to him, but also lets him know that she needs more than he can give and has to end things while she still can.
I loved Noelle's relationships with the various people of the town. I loved seeing her deal with Felicia's insecurities, help with the wedding preparations, and participate in all the holiday hoopla. I really enjoyed seeing the effect her enthusiasm had on Gabriel. As usual, when Noelle's problems with Gabriel became known, the ladies of the town showed up for the margarita and food commiseration party.
I always enjoy the appearances of characters from previous books. Each has an important part in the story without it seeming contrived. One of my favorite characters is always Mayor Marsha and her ability to provide just what is needed. I loved her role in the Christmas tree hunt and could see the results of that coming as soon as she got involved. I love the way she is always on the lookout for the people she needs for the good of her town and the lengths she goes to to get them. I do wonder sometimes about how she gets her information as it can be pretty spooky. I loved what she did for Gabriel.