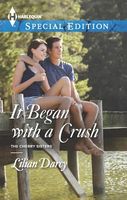 Series:
Cherry Sisters
(Book 3)
Gorgeous Joe Capelli is back in town. Will a summer fling with former classmate Mary Jane Cherry lead to something more?

Fifteen years ago, Joe Capelli left town to make his way in Hollywood--leaving Mary Jane Cherry behind to nurse her secret crush. So why is he suddenly back in town, working at his dad's garage--on her car? With twin little daughters, no less?

All Mary Jane's ever wanted is a husband and family. She knows that desire normally sends guys running in the opposite direction. Yet as her old crush on Joe revives itself, dare she believe that gorgeous Joe actually wants her, too--and for more than just a steamy summer affair?
Good book. I've been waiting for Mary Jane to have her dreams come true. She has always looked forward to having a husband and family of her own. She spent a long time in a relationship with a man who seemed to be the one, but always put off any kind of commitment. When she finally confronted him about it, he admitted he wasn't interested in that kind of future. Brokenhearted she ended the relationship and figured that family may not be in her future. She is happy for her two younger sisters who have found loves of their own, but also a little envious. Then she runs into Joe Capelli, her high school crush. He's changed from the cocky teenager who was going to set Hollywood on fire, and is home with his twin daughters and working in his dad's garage. Mary Jane feels an instant connection with him and senses that he's just as interested. As they spend time together both with and without his girls, she feels herself falling for him. But she's afraid that it's too fast and fears that she's forcing the relationship into her idea of a perfect life. I really enjoyed seeing Mary Jane finally getting a shot at her own dreams. She's marvelous with the two little girls and you can see that they like her too. Her relationship with Joe is great. She has been able to help him with his worries about the girls while at the same time having an intensely personal relationship too. I just wish she had trusted her feelings a little bit more and saved them a little bit of heartache.
Joe left town years ago, swearing he would become the next great star. He had some success, but ended up marrying a woman as ambitious as he was but weaker. After giving birth to his twins her career started going downhill aided by her drug use and irresponsibility. Joe divorced her but couldn't get custody of the girls until after she was proved unfit. Since then he has been raising them on his own as he readjusts his plans for the future. The girls are pretty mischievous and he worries that they may have inherited problems from their mother. He decides to move back home and help his dad in his garage for awhile. Meeting Mary Jane again reminds him of the good things from his past. He likes the changes he sees in her and is attracted to her. Noticing that she's looking back they decide to see where it might go. I loved how determined he is to give the girls a better life than they'd had before. He sees how good Mary Jane is with them which gets him thinking about the possibility of a future with her. He also knows that what he feels with her is something far stronger than he's ever felt before. It feels right to him and when it's right, it's right. But his certainty doesn't seem to be meshing with Mary Jane's and he wonders if maybe he read something that wasn't there. I liked the way that he didn't totally give up on her and they were able to talk things out.