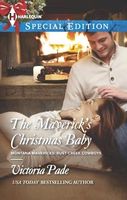 Series:
Montana Mavericks: Rust Creek Cowboys
(Book 6)
RUST CREEK RAMBLINGS

Rejoice, ye merry Mavericks! As Christmas approaches, we here at The Rust Creek Falls Rambler thought we'd reward our devoted followers with a blind item guaranteed to put a little extra jingle in your stockings. Which rugged Rust Creek Traub has been spotted canoodling with a very pregnant lady of the Crawford kind?

Astute readers will guess we're talking about divorced rancher Dallas Traub, who rescued expectant shopkeeper Nina Crawford from a snowy car wreck a few weeks back. Can these holiday honeys survive feuding families, three boisterous boys and a little bundle of joy intent on an early arrival? Only Santa knows for sure. . .and he might just be bringing the gift of love down the chimney this year!
Good book. The feud between the Traubs and Crawfords has been going on for so long that no one really knows anymore how it started. When Dallas came to Nina's rescue during a blizzard-induced car wreck, it opened the door to a peacemaking of sorts. Dallas has been walking around in a funk ever since his wife deserted him and his sons the day after Christmas the previous year. Seeing Nina and her determination to make the best of her life has started to bring him out of it, even if she is a Crawford. There's something about Dallas that is causing Nina to take notice, even if he is older than she is. Can they each overcome their issues and the long-standing family feud to forge a truce of their own?
Nina spent four years in a relationship with an older man. He was very set in his ways and she found herself making all the adjustments in their relationship. When he told her he didn't want kids that was the last straw and she broke things off. Not wanting to wait any longer for a family of her own, Nina went the artificial insemination route and is now quite pregnant. She is open to finding love again, but she is determined to make it on her terms. She is very independent and content to be a single parent if that's the way things work out. When Dallas comes to her rescue after she wrecks her car during the blizzard she is drawn to his calmness when she is worried about her baby. She also notices his good looks in a way she hadn't before. Nina sees his struggles as he tries to make the holiday a good one for his sons and she wants to help. She knows getting involved with a Traub is probably a bad idea but she can't help herself. The age difference also worries her, for fear that she could end up falling for someone just as rigid as her ex. I loved seeing the way that she showed up at Dallas's with the Christmas tree and decorations as a way to thank him for her rescue, standing up to her brother to do so. As the days went on she fought her growing feelings but couldn't resist being with him whenever possible. I also enjoyed the way she was able to see the differences between Dallas and her ex. Opening herself up to him at the end was scary for her but she accepted the possibilities in a way she hadn't before. I loved how she realized at the end that she trusted him and their love would see them through any changes they needed to make.
Dallas is still recovering from his wife's desertion and their divorce. The holidays are especially hard and he's having a hard time finding any Christmas spirit. Meeting Nina and seeing the way she has taken control of her life is a bit of a kick in the seat for him. He is attracted to her but wants to resist it. He worries that her youth will create the same kind of discontent that his ex suffered from and he can't go through that again. He can't stay away from her and, in spite of their families' feud, discovers that she is changing his life. I loved the way that he stood up to his family over his friendship with her. Including her in so many things brought his family closer to accepting their relationship. I really enjoyed seeing all the things that they did together and how they opened Dallas's eyes to how different Nina really was. I loved seeing him with her baby at the end and how he loved her like she was his own.
I really liked seeing how the romance between Dallas and Nina had an effect on both families. I found it interesting to see how differently the two families behaved. Dallas's family was cautious and disapproving at first, but were accepting of Nina as they got to know her and see what a difference she made to Dallas and his sons. Nina's family was really obnoxious about the feud pretty much throughout the book. They were very vocal with their attitudes and pretty nasty about it. I loved seeing Nina stand up to her brother over the Christmas tree. She also told her mom to get over it if she wanted to be able to spend time with her new granddaughter because Nina wasn't going to put up with negativity around the kids. All in all a very good conclusion to this Montana Mavericks cycle.