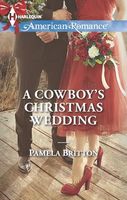 CHRISTMAS MIRACLES DO HAPPEN!

Cabe Jensen hates Christmas. After losing his beloved wife, the holidays are nothing but a painful reminder of all that was good in his world. When his best friend asks to get married at his ranch, Cabe has no idea that it's to be a Christmas wedding! The worst part is he has to work with Saedra Robbins -- a friend of the groom -- on the plans. And Saedra can't seem to stop herself from poking her nose everywhere, making him feel things he'd rather forget.

Trouble is, he's not sure what Saedra's after. She makes herself at home around the place, and his daughter likes her. All Cabe knows is he can't stop thinking about kissing her….
Very good book with some pretty intense emotions. Cabe said yes when his friend Alana (A Cowboy's Pride) wanted to hold her wedding on his ranch, but he didn't know it would be a Christmas wedding. After losing his wife and brother at Christmas he hates the holiday. He has to work with the groom's friend Saedra to get the wedding planned in just two weeks. The two of them are like oil and water, but he can't deny the feelings she's stirring up.
I liked Saedra. First, she is determined to make sure the wedding is everything the bride and groom want and she won't let anything stand in the way, not even grouchy Cabe. There's something about him that makes her lose control of her mouth when he's around, so she always seems to make him mad. One thing she knows for sure is that she's really attracted to him. After discovering that it is mutual, she propositions him. Since she has terrible luck with men and relationships she has gotten into a "use 'em and lose 'em" attitude, and tells Cabe they can feed the attraction without getting involved. She doesn't expect to actually start to like him. She also sees the pain that he is still in from the loss of his wife. I loved the way that she always seemed to be able to tell when things were getting too much for him and stepped in to help him. It wasn't long before her "no strings" plan fell apart and she wanted more from him. It was heartbreaking to see the way she wanted to give him everything she had but he wasn't ready for it. I loved the courage she had to wait for what she needed.
Cabe has been hiding out for a long time. He hasn't been able to move on from the loss of his wife and hadn't really been able to face his memories either. With Saedra's arrival at the ranch things started to get out of control pretty fast. He's furious when she decorates the house, but has to allow it because of the wedding. Then he discovers that all that passionate anger has opened the door to another type of passion. He's attracted to Saedra and that makes him feel guilty, as though he's betraying his wife. He makes sure she knows that he's not interested in any kind of relationship and is kind of shocked when she tells him she just wants the physical, not the emotional. The more he's with her, the more he wants her, but the guilt just doesn't go away. When she helps him deal with some of the grief his growing feelings scare him and he pushes her away. He doesn't want to open himself up to that kind of grief again. I loved his epiphany right before the wedding and the wedding itself was priceless.