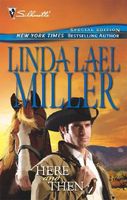 Series:
Beyond the Threshold
(Book 2)
Rue Claridge's cousin, Elisabeth, had disappeared--evidently returning to an earlier era. Someone had to investigate, so intrepid globetrotter Rue donned a mysterious necklace that could catapult her over the threshold . . . into a different century.

And wild and woolly the Old West was--complete with a lean, lanky lawman hankering for a forward-thinking female. Spitfire Rue was the filly for Farley Haynes, and Rue, too, felt fated to wed the uncompromisingly masculine marshal. But would a bandit's bullet bury him in 1892, leaving Rue in widow's weeds . . . a century beyond the threshold?
Very good book. Rue arrived in Pine River, current day, to investigate the disappearance of her cousin Elisabeth (There and Now). Letters that he cousin left for her indicated that she had disappeared into an earlier era by her own choice. Rue wouldn't believe it until she heard it from her cousin herself. So she put on the mysterious necklace and did indeed find herself in Pine River 1892. Unfortunately, her cousin was away on her honeymoon and not there to vouch for her, so she ends up the guest of the local marshal. Rue is a modern woman and I loved seeing her reactions to the people around her and what they expect. I loved the poker game scene and her discussion with Farley later on. Rue is attracted to Farley and seems to find a fair amount in common with him. There is one point where the necklace is about to send Rue back to the future and she grabs Farley, which drags him to the future with her. I really loved the way that she had so much fun showing him her world. The more time they were together the more deeply she fell in love with him. She worried that he would get sent back to the past and they would be separated forever. The ending was great with the way that she and Elisabeth worked together to save Farley.
Farley is the marshal in charge of Pine River. When he finds a strange woman in his friend Jonathan's house who claims to be Elisabeth's cousin he doesn't know what to think. But without any proof, he can't just let her stay there. Her strange clothing and speech worry him and he tries to keep an eye on her. As strange as she is, he is also very attracted to her. I loved seeing the way he tried to watch out for her. I also really enjoyed seeing how much the things she said amused him, even though he had no idea what she was talking about. He was also a product of his time and when he and Rue gave in to their attraction he was determined that they would get married. When his plans were interrupted by a trip into the future he had a lot he had to absorb. I loved the way that he adapted so quickly. Because of the way he was educated, by reading everything he could get his hands on, he used the same methods in the future and read about everything from engines to plumbing. When Rue took him to the ranch she inherited he had to decide if he could handle getting the property by marriage rather than earning it himself. He was also feeling guilty about disappearing from his job in the past and wanted to go back long enough to end it properly. The ending was very intense with wondering if Farley would survive or not.
I really enjoyed the two books and seeing how the two couples dealt with the whole time travel thing. There was some great humor as both women faced life in 1892. I really enjoyed seeing Rue put her modern woman values to work in that time period. There were some great scenes, such as the poker game and also her facing down the ladies of the town. I thought Farley was pretty great at accepting the truth and then adapting to the future the way he did.