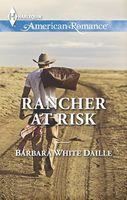 Series: Flagman's Folly
A Fresh Start
After the loss of his family in a tragic accident, Ryan Malloy has been given one last chance to change his life. His boss sends him to Flagman's Folly, New Mexico, to run his ranch, but unfortunately, Ryan's troubled attitude lands him in hot water with the locals, especially the ranch's manager, Lianne Ward.

Deaf since birth, Lianne has never let her disability define who she is. But, she's yet to meet a man who treats her as an equal. Ryan seems different...that is, when they're not butting heads over the ranch's new school for disadvantaged boys.

Forced to work together, Lianne and Ryan discover an unexpected attraction beneath their quarreling. But will Ryan's painful past drive them apart...permanently?
Very good book. Ryan has been living on the edge for the past year, ever since the deaths of his wife and son in an accident. He has been getting angrier and angrier over their loss and the fact that there were no answers as to how it had happened. It created a need in him to control everything and this bled over into his work. His boss has sent him to Flagman's Folly to run the ranch there, getting him away from his memories and giving him a chance for a fresh start. But on the way into town he has a confrontation with a woman about a child that ran into the road. This gets him off on the wrong foot with several locals including Lianne, the woman in question. It turns out that she's the manager in charge of getting the school for disadvantaged boys set up. What he doesn't know until after they've worked together for awhile is that Lianne is deaf. While he's sure that she knows her job, he looks on his new position as a test by his boss to see if Ryan can handle the job. Therefore, Ryan plans to oversee every little thing to make sure that nothing goes wrong on his watch. At first, all the interactions between him and Lianne end in quarrels. But it's not long before that heat has taken a different direction. There's so much about Lianne that appeals to him and being around her is easing his pain, but he's not sure he can open himself up to more loss. Plus, his need to control everything runs up against Lianne's need for independence. I felt so bad for Ryan's pain and the trouble he was having dealing with it. He was so worried about making sure that everything went perfectly that he couldn't see what his attitude was doing to Lianne. I loved seeing the way that he finally saw what he was doing and moved to fix it. I really liked his explanation of his feelings and his attitude.
Lianne had recently ended a long relationship with a man she thought was the one. Until she discovered that he had no confidence in her abilities to care for herself or exist without his help. This caused her to doubt her own judgment when it came to relationships, and even worked on her self confidence in her work. She has never allowed her deafness to slow her down, finding ways to adapt her activities if she needed to. She is very happy to have the opportunity to supervise the establishment of the new school. Everything is going great until Ryan shows up. She can see the doubts that he has and it does nothing for her confidence. She hates having to report every little thing to him. The attraction between them isn't doing her any good either. But the more time they have to spend together, the easier it gets. Lianne starts feeling that maybe he's finally coming to accept that she doesn't need to be protected all the time and that there might be hope for a future together. She's heartbroken when she finds him doing something that she sees as just another indication of a man who doesn't think she can handle her job. I loved Lianne's independence and determination to live her life to the fullest. She tries not to let anything stop her from doing what she wants to do. There were times that she may have been too independent, when it would have hurt to let Ryan help her, but I could see that she was still trying to recover from being hurt before. I liked the way that she was able to explain her feelings to Ryan.