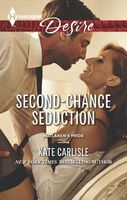 Series:
MacLaren's Pride
(Book 1)
Her first love is her last hope...but for him, it's payback time.

Connor MacLaren never forgave Maggie Jameson for leaving him. Ten years later, his former sweetheart's back in their California town, desperate for the Scottish businessman's help. And he knows just how to get her out of his system once and for all....

Agreeing to temporarily pose as Connor's girlfriend is deja vu. After only a few minutes alone with the rugged Highlander, Maggie's breathless with desire. Of course, this was Connor's intention...until his plan backfires, leaving them both wanting much more.
Good reunion story. Maggie had left California ten years earlier, devastated over her breakup with Connor. Now she's back, living with her grandfather and reviving her late father's brewery. She needs a loan, but the bank has turned her down, so she gives in to desperation and goes to Connor. He has never forgiven her for leaving him all those years ago, but he's never forgotten her either. Since he needs the appearance of a stable relationship for a business deal he's working on he offers her a deal. If she'll play along for the week, he'll give her what she needs. He also wants to get her back in his bed.
Maggie had left California because she was so upset over her breakup with Connor. They had been sweethearts, then lovers for a long time. But she couldn't handle his love of extreme sports since her father had died because of his love of risky sports. She moved to Boston and ended up getting married to a man who was emotionally abusive. By the time she was able to divorce him her self confidence and self esteem had been pretty well shredded. It took her awhile after she got home to get back on her feet, but once she did she got involved with her father's old brewing equipment. She was very good at it and earned awards, but kept her name out of it and didn't appear in public. She still has trouble with remembering that she's free to be herself. When she goes to Connor for help she's very nervous about it, not knowing how he'll react. It doesn't go well at first, but once she gets him to listen to her needs he agrees, as long as she helps him out. Maggie is very wary because the attraction is still as strong as ever and she doesn't want to get involved. She feels she doesn't have any choice and goes along with it. I was a bit frustrated by the way that she kept telling him that she wouldn't sleep with him, but gave in so quickly. I would have liked to see her hold out a bit longer. I did like the strength that she showed in the way she started a new life once she got back home. I also liked seeing the confidence she showed during the beer festival as she talked to her peers. The concluding conflict was pretty intense with the way it played on Maggie's insecurities.
Connor had been heartbroken over Maggie's departure. He never understood why she left without talking to him. Seeing her in his office brought it all back, including the attraction that is as strong as ever. He decides to use his need for a date for the week of the beer festival as a way to get her back in his bed for a few days. Even though she is determined to resist, Connor is confident in his ability to convince her. He is surprised by the way he wants to spend time with her and get to know her again, as that wasn't in his plan. I really liked the way that he got Maggie to tell him about her life with her ex-husband and how much it affected him. He was also stunned to hear Maggie's side of the story of their breakup. Looking back he realized how selfish he had been. I enjoyed seeing how proud he was of Maggie and her success and how he stood up for her to his brothers. I loved seeing the way that he was able to let go of their past and fight for a future.