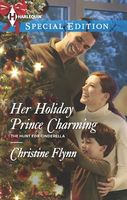 Series:
Hunt for Cinderella
(Book 10)
Can a single mom and a Scroogelike self-made millionaire find their fairy tale for Christmas?

All Rory Linfield wants is to give her little boy a perfect Christmas. A new job and new home would be nice, too! So when a mysterious benefactor asks her to manage a shop in a picturesque seashore town, she eagerly accepts. The only catch? Her supergruff -- and supersexy! -- new boss.

The last thing bachelor Erik Sullivan needs to deal with is an inexperienced "businesswoman." Especially one whose gentle manner and vulnerable allure awaken feelings he'd rather let lie. No, it would be easier to keep his distance, because Rory and her son remind him all too much of things he once wanted, but couldn't have. But then, this holiday season seems to be full of surprises…perhaps even a family under his tree?
Good book. Rory is the next young woman up to be helped by Cornelia Hunt's new foundation "Fairy Godmothers Incorporated". She is recently widowed and even more recently jobless. Cornelia offers her a chance to run a small shop with an attached apartment and even provides a mentor to help her get started. Erik tries to keep his help to business only, but something about Rory and her son make him remember dreams he'd put aside long ago.
Rory had been very much in love with her husband who was killed by a drunk driver. Her former in-laws had never made her feel welcome and with Curt's death have cut all ties with her completely. Now all she wants is to give her son Tyler a perfect Christmas, find a job and a place to live. She's happy to accept the job and home that's offered, but she's not so sure about the mentor. Erik is the grandson of the former owners, a self-made millionaire, and too sexy for her peace of mind. She needs his help to learn the business but she doesn't want to depend on him because he'll be gone as soon as she does. She tries very hard to keep things business like, but Tyler has developed a huge case of hero worship. Erik's kindness to her son melts her heart and she finds herself starting to care for him far more than is wise. I loved Rory's determination to stand on her own two feet and move on with her life. I felt like she went a little overboard by trying to resist almost everything Erik tried to help with that wasn't strictly business related. It got a little easier for her to accept when it came to Erik and her son, though she worried about what would happen when Erik wasn't around anymore. I liked the way that she was able to share some of her troubles with Erik and take comfort in what he told her. She finally realized that she wanted to give him the same sort of support that he gave her, if she could just get him to admit he needed it too.
Erik is a successful businessman who has given up on having the kind of life he had once dreamed of. He works long hours and keeps himself busy with business related things. When Cornelia asks him to mentor Rory he isn't too excited about it, but will do his best. He just wants to be able to move the property so he doesn't have to come back to it and remember the bad parts of his marriage. He doesn't expect Rory's stubborn independence to be covering a vulnerability she just can't hide. It doesn't take long before he finds himself looking for reasons to spend more time with her and Tyler. When an ice storm traps him with the two of them for a few days he falls fast and hard. I really loved seeing how great he was with Tyler. He seemed to have just the right touch at making the little boy happy. He also discovered that he really wanted to make things better for Rory. I loved his gentle way of getting her to talk about her worries and his attempts to help her without trampling her independence. I also enjoyed the way he shared his memories of the times he spent there with his grandparents and how she tried to incorporate those memories into her plans for the store. Being there with her made him remember the good times, but he also had trouble trying to decide just what he felt for Rory. I loved seeing him realize just what those feelings were and what he did with them was sweet.