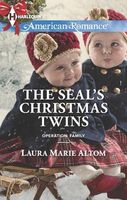 Series:
Operation: Family
(Book 5)
His Toughest Mission Yet

Navy SEAL Mason Brown left Conifer, Alaska, and his broken marriage behind long ago. Until one call changed everything. His ex-wife has died in a tragic accident, and given custody of her twin baby girls to Mason and her sister Hattie.

Hattie Beaumont always dreamed of having a family -- and Mason -- but never like this. Now those old longings seem like betrayal, especially since playing house with Mason comes naturally. She can tell he feels it, too, so why is he determined to leave?

Mason knows Hattie and the girls are the greatest Christmas gift he'll ever get. But even though he's risked his life countless times, risking his heart again feels so much more dangerous.
Very good book. Mason hasn't been back to Alaska since the end of his marriage, until the death of his ex-wife sends him back to take joint custody of her twin girls. The other half of the agreement is his ex's sister Hattie who had once been a good friend to him. Mason's feelings of betrayal still run deep and he has no interest in keeping to the custody agreement. But until he can relinquish his rights he's stuck caring for them. Spending time with Hattie creates feelings in him even stronger than those he had felt for his ex-wife, but he's not sure he can open himself up to that kind of risk again.
I really liked both Hattie and Mason. Hattie always felt like second best around her sister, who was thin and beautiful and popular. Except around Mason who was always nice to her. Hattie developed a mad crush on him that lasted even after their marriage and divorce. Now she's suffering from terrible guilt because she has her sister's children and her sister's husband. Having Mason around helping her with the babies makes her feel like she's part of a real family. It's making that old crush grow into real love, but it's tearing her apart. Hattie also has terrible self esteem because she sees herself as fat and doesn't believe anyone would ever see her as beautiful. I loved seeing the way that she went from terrified to fantastic with the girls. Mason's presence gave her confidence the boost it needed for her to feel that she can take care of them. They had terrific teamwork and Hattie could see how wonderful it could be if they were able to be together. I also thought she had wonderful inner strength to be able to do everything she did and still cope with the nasty attitudes of her parents. I often wondered how she could keep her temper when her mom said all those terrible things. It was hard to see her allow her guilt to keep her from what she really wanted. I really liked the way that Hattie took charge of her life at the end.
Mason still feels the betrayal of his ex-wife and best friend. He is stunned to find out he has joint custody of their girls with Hattie. He doesn't want it and can't wait to turn it all over to Hattie. Because there will be a delay, he ends up sharing the house and child care duties with Hattie. He is surprised by what a beautiful woman she has become and shocked by the attraction he feels for her. He knows nothing can come of it because he can't wait to leave and there's no way Hattie will leave. I really liked the way that he saw her beauty, inside and out, and tried to get her to see what he saw. I also loved seeing him learn to care for the babies. He had always been one of the ones who didn't understand his teammates who got married and had kids and now he's starting to fall also. There were some great scenes with him learning what to do and treating it like a military mission. He had some great moments where he was trying to come to grips with his growing feelings for his "friend" and trying to reconcile them with what he still felt about his ex. When he finally admitted his feelings he was stunned by her response. I didn't blame him for running to escape his pain again. I really liked his reaction at the end.