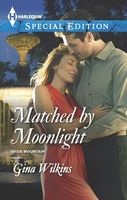 Series:
Bride Mountain
(Book 1)
A workaholic wedding planner meets a travel writer, and soon love is in the air at Bride Mountain, Virginia's most exciting venue for destination weddings

Kinley Carmichael is on her way to transforming her family's historic B and B into Virginia's most exciting vacation venue. Romance is the last thing on the once-burned wedding planner's mind...until footloose travel writer Dan Phelan shows up, throwing her schedule--and Kinley's guarded heart--into chaos.

Dan is just passing through and has no intention of making Bride Mountain Inn his honeymoon destination. So why is Kinley suddenly making him long to take that fateful walk down the aisle? It will take a local legend and a passionate kiss under a bridal moon for two total opposites to realize they could be meant for each other....
Good story of two people who seem like total opposites as they discover that they have more in common than they thought and that a little bit of compromise can make anything possible. Kinley and her brother and sister have turned their B and B into a sought after wedding destination. It has drawn the attention of travel writer Dan Phelan, who arrives to do a story on it. Kinley is very focused on the business and the upcoming wedding taking place. Dan's early arrival has thrown off her schedule, and the attraction she feels to him isn't helping her peace of mind. Having been hurt in a marriage that didn't work out she now keeps tight control over her emotions, putting all her effort into the business. She can't seem to stay away from Dan even though she knows he's not the type to stay around. She sees him as someone who cannot settle down. I loved seeing the way that being with him showed her feelings that she had given up on long ago. She also began to wonder if her need for control was turning her into an unlikable person. I loved the way that Dan reassured her on that point. I also liked the way that she was able to see Dan's issues that were driving him.
Dan was an only child of parents who had problems letting him live his own life. They didn't understand his desire to write and showed their disapproval that he didn't follow them into medicine or law. So he has spent the last several years going from place to place writing his travel articles. When he arrives at Bride Mountain to write his article about the B and B, he is impressed by what he sees. He is rather amused by Kinley's attempts to keep all their interactions business related. He would like to pursue the attraction between them as long as she understands that it would be a no strings thing. I really enjoyed seeing the fun he had getting her all flustered. I also liked the way that he stepped in to help her with the bride's mother during the wedding festivities. He was very good at seeing Kinley for who she is and why she is the way she is. His growing feelings for him scared him off for awhile as he doubted his ability to be what she needed. I loved what he said at the end and how they decided to make things work.
I also enjoyed the setting of the book. Southwestern Virginia is a beautiful place and I loved the descriptions. I also loved the whole wedding scenario. There were some pretty funny moments with Kinley and the others dealing with the obnoxious mother of the bride. Many of the situations showed both Kinley and Dan doing what they do best and gave great insight into who they are. I liked the hints of the subject of the next book in the series.