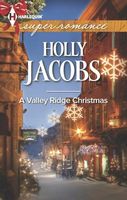 Series:
Valley Ridge Wedding
(Book 4)
The whole town's in on this Christmas secret!

Maeve Buchanan isn't the jealous type. But with another Valley Ridge wedding approaching, she's feeling a twinge of envy. Everyone seems to be finding "it" -- except her. Not that romance is high on her priority list! Inspired by the arrival of a homeless family one snowy night, Maeve -- Valley Ridge's own George Bailey -- is determined to give them a permanent home by Christmas.

To make this surprise happen, fiercely independent Maeve is going to need a lot of help. Particularly from the irritating newcomer Aaron Holder, who thinks Maeve is just too good to be true and suspects her motives. Working together won't be easy. But it'll be worth it…in so many ways!
Very good book. Maeve feels a little envious of her friends who have found true love in the past year, but she isn't going to let it get her down. She finds the perfect distraction in a homeless family that arrived in town during a snowstorm. She is determined to help them get back on their feet and has found the perfect way to do it. Aaron is in Valley Ridge to run his uncle's store while his uncle is in Arizona where it's warmer. He feels like his heart is as frozen as the rest of him until he meets Maeve. He doesn't understand her at all, as he's not used to people who don't have ulterior motives for everything they do. He finds himself unable to resist the need to figure her out and ends up learning about himself too.
"I can't save the world, but I can try" is Maeve's motto. She and her mother had found themselves in need of help when she was younger. Now she works very hard to make sure that she is never in a position to need that kind of assistance again. She is very independent and doesn't like to ask for help from anyone. While she is friends with many people she is also a private person. She doesn't really talk about her past. Maeve loves to help her community and the people in it and she does it without asking for assistance. When a homeless family appears in Valley Ridge she wants to help them. Her initial attempts bring her into contact with Aaron who is pretty cynical. She tries not to let his attitude get her down. I loved her idea of how to help the family and her determination to make it happen. It bugged her that she had to rely on Aaron for help in getting it done, but working with him caused her to change her opinion of him. She wasn't interested in getting involved with him but she also couldn't seem to stay away. She attempted to keep things on a friends only basis, especially after she learned of the reason he wasn't able to date. I loved the way that their friendship grew even as they fought any stronger feelings. Opening herself up to Aaron also showed her that she had been holding herself back in her other friendships too. I loved seeing how her project to help the Myers family also showed her how important she was to the other members of the community.
Aaron had come to Valley Ridge to help out his uncle. He is a computer nerd whose work can go where he does, so he doesn't mind helping. His first meeting with Maeve doesn't go that well, as he makes a comment about her red hair. He can't deny his interest in her but isn't planning to get involved with her. As he sees her trying to help the Myers family and learns about her other good deeds he is puzzled. In his experience no one is that good to other people without expecting something in return. I loved seeing him get to know Maeve and how her outlook on life rubbed off on him. The more he got to know her the closer he wanted to get, but he also had to deal with something from his past first. I loved that conversation and how it opened his eyes further to his feelings for Maeve. I loved the Christmas Eve scene and the comparison to A Christmas Carol.
One of my favorite things about this book is the small town setting. I loved seeing the couples from the previous books shown in a logical way, not just jammed in to have them there. I enjoyed all the ways that people let Aaron know they were watching him in regards to Maeve, but also that they welcomed him as part of the community. I also loved seeing the various ways that the Myers family was helped in big ways and small ones by the town and how they all came together to work on the house.