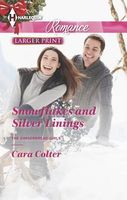 Series:
Gingerbread Girls
(Book 3)
A wedding guest from her past…

After a rocky year, Casey Caravetta pulls herself together and puts on a smile for her best friend's Christmas Eve wedding. However, she hadn't expected to see Turner Kennedy, the first man to break her heart.

Special Forces commando Turner is now hard, dark and dangerous, tortured by his experiences of war. Coming face-to-face again with beautiful Casey is a painful reminder of the path he might have taken.

Back then they were living on borrowed time, but now -- with a sprinkling of holiday magic -- they have a another chance…if only they're prepared to believe it!
Very good book with some intense emotions on both sides. Casey has come to Gingerbread Inn to help her two best friends with Emily's wedding. She's trying to keep a cheerful attitude with all the love that's floating around but it's hard. In the last year she had ended her engagement, lost her father and seen her mother become a nun. She's given up on the idea of ever having romantic love of her own and plans to become a single mother to have the family she wants. The last thing she expects is to see the first man to break her heart, the groom's best man, Turner. She remembers three magical days with him after the first wedding, before Turner disappeared without a word. Now he's here again, but very different than the man she remembers. She's still angry and hurt and has no intention of getting involved with him again. But he seems determined to make her have fun while remaining apart himself. It was interesting to see the way that her pragmatic scientist's way of looking at things warred with the way that being with Turner made her feel. She was so afraid of being abandoned again by someone she had come to care for. I really liked the way that she could see past the shell that Turner had erected to the man that was hurting and had fears of his own. There were some really great scenes as the two of them had fun. There were also some really heartwrenching scenes as Casey told him about her family issues. I loved her courage in telling Turner how she felt and then dealing with the consequences. I found the way that she refused to give up on him the best part of all.
Turner had had a happy childhood with his parents and brothers. Then his father was killed in the 9/11 attacks and Turner joined the military to deal with the pain. This created a rift with his brothers that only widened as he ended up in Special Forces. The day of the first wedding was just a few days before his first deployment. Seeing Casey and how serious she was made him want to celebrate life by bringing some fun into hers. He offered her three days in which they had a grand time, but he left before she woke up on the fourth day. Since then he had seen and done things that have caused him a lot of pain. A friend died during his last mission and now he wonders what his future should hold. When Cole asked him to come for the wedding he did, not thinking about the possibility of seeing Casey again. He was surprised to see that she was even more solemn than when he had seen her last and disturbed to think it could be partly his fault. He was determined to bring some fun back into her life but he didn't want her to get too close to him. I loved seeing the ways he tried to get her to laugh. The snowman scene was so much fun, as was the ice skating. Being around her was having an effect on him too. There were a few times when he felt a lessening of the dark feelings he had, but he didn't want his issues affecting her so he tried to keep his emotions locked up. I loved the way that she wore him down enough to get him to really talk to her about some of his experiences, but it scared him into running. I liked the way that he finally was able to make the choices he needed to make.
My only complaint about the book wasn't with any part of the story but with the cover. Turner is a brooding Special Forces guy. The man on the cover looks way too happy and the body type doesn't seem to match with the impression I got from his description.