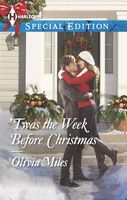 Series:
Maple Woods
(Book 1)
Dear Holly,

As I look around the inn, I see garland and mistletoe, colored lights and ornaments--everything I have always professed to despise. You were right to wonder why I would choose to visit The White Barn Inn. You were right about a lot of things.

Since I met you, though, everything has changed. I've changed. And that's why I can't go on any longer without telling you the whole story. I don't know if you will ever be able to forgive me. But they say Christmas is a time for miracles. And you do believe in them, don't you? The question is, can you still believe in me?

Max
Very good book, slightly reminding me of A Christmas Carol. We have Holly, the innkeeper, who loves Christmas. She has decorated the inn, participates in all the Christmas activities, and just generally seems a pretty happy person. Then you have grumpy Max. He is a self-made successful real estate developer. He doesn't like Christmas at all. He's in town to try to buy some land for a shopping mall, land her inn just happens to occupy.
I liked Holly. She has made a life for herself at the inn. She left Boston after being disappointed in love, losing her parents and then her grandmother. The inn and its guests have become her life. I loved the way that she throws herself into all the Christmas preparations and activities. When Max shows up she is very attracted to him. He has a great smile and seems very interested in her. She doesn't understand his dislike of Christmas and gets him involved in the activities. Her disappointment when a snowstorm keeps guests away is obvious and she's grateful that Max is staying around. Everything is going great between them until she finds out why he's in town.
Max had had a miserable childhood with a drunk, abusive father and a mother who abandoned them when he was eleven, right after Christmas. He has disliked the holiday ever since. He has worked hard to build a successful real estate development company. His latest project is a shopping mall in Maple Woods. He has come to town to buy the land and get the project approved by the city council. He doesn't expect the instant attraction to Holly. He can't seem to stay away from her and the more he gets to know her the guiltier he feels about his plans. I felt really bad for Max. He was so torn about what he should do. On the one hand, his business really needs the mall property and it's important to him to continue with his business successes. On the other hand, his growing feelings for Holly make him want to leave it all behind for her. He went through so much turmoil before he finally found his way back to her.
The story showed Max his past as he told Holly about it, with the unhappy things that happened to him that made him the man he is today. We also saw Max in the present, as he spends time with Holly and her friends, seeing the happiness she has as she takes care of her guests. Max also envisions the future as it might be after the mall is built and the effects it would have on the town.
I really enjoyed the descriptions of the town and the inn. The various secondary characters felt real to me and brought both the town and the inn to life. I'm looking forward to the next book and a return to Maple Woods.