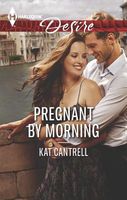 One magical night in Venice brings two lost souls together...until a positive pregnancy test changes everything.

What was meant to be a one-night affair has turned into much more for Texas businessman Matthew Wheeler. Something about Evangeline, the mysterious woman he met at a masquerade ball, propels him from his self-imposed exile. He's finally able to forget his tragic past and lose himself in this incredible woman.

But letting go has a price.

Evangeline's pregnancy announcement brings reality to their Venetian villa. Are they ready to take their secret affair public? Or will their romance end with the morning light?
Very good book. I loved the slow growth of their relationship as they got to know each other and the emotional development as they help each other heal. Both Evangeline and Matt are in Venice to escape. Evangeline was a famous singer until a botched operation on her vocal cords ruined her voice. Now she feels like she has lost sight of who she is. She has been wandering around Europe visiting friends as she tries to figure out what to do with her future. We met Matt in Marriage With Benefits as he is still reeling from the death of his wife. He turns the family business over to his brother and takes off for Venice to try to forget his pain until he's able to go back to his old life. When they meet at a Carnevale party there is an instant connection between them. Each recognizes the pain that the other is in and they agree to a one day at a time relationship. I loved the way that their empathy with each other leads to their own healing. Matt can see Evangeline's devastation at the loss of such an integral part of who she is. Because of her fame there is a lot of media attention. I loved the way that Matt was so protective of her when they were confronted by the two photographers. Being with her starts healing his pain and he realizes that she makes him happy. But he can't see her fitting into his life in Dallas because she is so different than his late wife. It ticked me off that he was judgmental that way - he came off as a bit of a snob there. Evangeline doesn't want any kind of permanent relationship. She was hurt by the treatment she received from her ex-fiance and has lost all belief in romantic love. She's quite content to have a physical relationship with Matt that will last until they tire of it. It doesn't take long for that simple attraction to start to change. His care for her is something she has never experienced before. He helps her see new possibilities in her future without pushing her. Just having him being there for her when she attempted an interview gave her confidence. I loved seeing the way that she was able to face playing the piano by having Matt sitting with her as she did it. I could feel her relief and happiness as her playing and writing came back to her. The unexpected pregnancy throws them both into a tailspin. Evangeline is afraid of being tied down and all Matt can think of is taking her to Dallas and making her part of his old life. Each of them has to take a hard look at what they really want and what they need to do to get it. I loved the ending as both of them realize what is most important. The final scene in the kitchen is so sweet as they both get what they want.