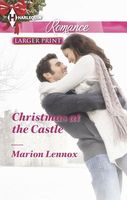 Holly and the brooding new Earl of Castle Craigie…

Angus Stuart is more used to managing boardrooms than castles, but when his father dies he finds himself thrust into an unfamiliar world. Returning home, he intends to sell the estate as quickly as possible. However, with Christmas around the corner, fate has other plans….

Showing up on his doorstep, Australian chef Holly McIntosh is bursting with festive cheer. But she's desperate for a job, and she's not taking no for an answer! Not usually one for taking a risk, Angus offers her a temporary position. But if anyone can melt this brooding earl's heart this winter, it's Holly!
I really liked this book. Angus has come to Scotland to sell the estate he inherited from his father. It's slow going and when he gets a call from his younger half brother, who wants to spend Christmas at the castle along with his sisters, he knows he's going to need some help. His advertisement brings one applicant, Holly, who seems very young for the job. But he needs her and she needs the job so they agree to a three week position. Angus doesn't expect the changes that this bundle of energy is going to bring to his life.
I loved Holly. She had so much love to share it just bubbled out of her. She had come to her grandmother in Scotland after losing everything in Australia. Her fiance had absconded with all the funds for the restaurant they owned together, leaving her in debt and the business closed. Neither she nor her grandmother have much money left so when she sees the ad for the job at the castle she goes up to apply. She doesn't really give Angus a chance to turn her down and soon she and her gran are hired as chef and housekeeper for three weeks. Holly is immediately attracted to Angus, but having been burned once she isn't going to let herself fall again. That evening he comes to her with another proposition. He needs her to pretend to be his fiancee so that his half-siblings will be allowed to visit. She's hesitant but for the sake of the kids she'll do it. The next day she and her gran start making lists of what needs to be done to make the castle livable for those three weeks. I loved this scene as Holly and Maggie simply blow Angus away with their enthusiasm and plans. It was hysterical to watch his confusion. As the days go on Holly sees more and more of Angus that she likes and feels her heart softening toward him. She has seen that he is determined to be nothing like his father. When he confesses that he's fallen for her she worries that it is too fast and that they don't know each other well enough, but her fears start to fade as the holidays go on. When something happens that makes her think she didn't know him after all she is devastated and tells him exactly how she feels and why.
Angus and his mother had left Scotland and his father when he was a year old. His father had been a miserly and mean man whose actions had caused Angus's mother great unhappiness. She constantly watched Angus for signs that he was like his father. When his father died, Angus inherited the title and estate, but he wanted nothing to do with them. He came to Scotland to sell them as quickly as possible and go back to America. He wasn't thrilled by his half-brother's call but couldn't bring himself to deny his wish. I loved his reaction to Holly's application and her presence. He couldn't stop himself from agreeing to all of her demands. I loved his confession of his lie about being engaged and how he begged for her help. It was a very good thing that he was as rich as he was with the way that he let her run wild with making the castle fit for Christmas celebrations. I loved the way that he found himself doing whatever she told him to do. Just being around her opened up his eyes and heart to things he had never noticed before, I loved seeing how that had such an effect on him and the way he started making a difference in others' lives. It also opened up his heart to loving Holly. He was able to admit his feelings for her well before she could. He wanted her so much and tried not to rush her, showing that he could have patience if he worked at it. His biggest drawback was the way he let the estate manager do so much, even though he had a bad feeling about the man. He went for the easy way out there when it came to trying to sell the estate and it came back to bite him. Once he found out about the problems I loved the way that he went about solving them. I loved his solution and how things worked out.