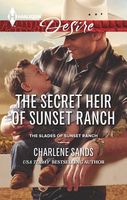 Series:
Slades of Sunset Ranch
(Book 3)
A war hero returns to a secret baby surprise

Back from his tour of duty, wealthy Nevada rancher Justin Slade gets the shock of his life. The woman who shared his bed eighteen months ago is in his hometown with a son in tow…who looks just like Justin!

Katherine Grady is hiding a dark past, but when she realizes Justin seduced her under false pretenses, she's livid…even if she still finds him as irresistible as ever. Will their secrets keep them apart, or will her hero fight for what's his?
There are several secrets in this book that create tension between Justin and Katherine. She came to Nevada when she needed a place to go. She wanted to try again to find her son's father, only to discover that he'd been killed in the war - or had he? Justin has finally returned home and needs to see the aunt of his friend who died. He feels like Brett's death is his fault. He's stunned to find Katherine there with a baby. Katherine is just as stunned to find out the man she thought was Brett had lied to her about who he was. There's still a lot of heat between them but there's a lot to overcome also.
I really liked Katherine. She was a survivor. She came from an abusive home and after she and her mom escaped spent a long time homeless and poor. She swore that she would better her life. Meeting Brett/Justin one night gave her an incredible weekend with him but she didn't want a relationship with a soldier/farmer. After parting ways with him her life got easier as she had a relationship with another man. Even after she found she was pregnant he was willing to raise the child as his own. When that didn't work out Katherine took control of her life and went looking for Brett's family to try to find him. I liked the courage that it took for her to do that. I loved the way that she and Mattie bonded and the care that she took of Mattie after her heart attack. Her fury when she found out that Brett was Justin and he had lied was fully understandable. I liked the way that she agreed that Justin be part of Connor's life but he had to do it without telling Mattie the truth. She was worried what it might do to her health. Katharine was also dealing with the incredible heat between her and Justin. As they spent more time together her feelings for him grew. I liked the way that Katharine finally came clean to both Justin and Mattie about her past and what it had done to her life and outlook.
Justin had come home after eight years in the Marines as a decorated hero. He doesn't think of himself that way, and is actually filled with guilt over the way his friend Brett had died. He feels that he is responsible and is determined to go to Brett's aunt and confess. Finding Katharine there surprises him and he is stunned to find out about Connor. He wants to claim him right away but gives in to Katharine's pleas that he not hurt Mattie that way. I loved the way that he took to Connor right away. He wasn't happy that he had missed so much of Connor's life but admitted it was his own fault. The night that he and Brett had switched identities had only been in fun. It also gave him a chance to be with a woman who didn't know about him and his background. He tended to not trust women because so many were only interested in his bottom line. This makes him wary of Katherine and her motives. I liked seeing him find ways for him to be around Connor. He also discovered that his attraction to Katharine is still there, and he is determined to pursue it. His guilt is still eating him up and one day Katharine finally gets him to tell her about it, which starts his healing process. He also is starting a horse rescue and veterans retreat on land he buys from Mattie as a way to honor Brett. When he finds out about Katharine's past it brings up his trust issues and he behaves like a jerk toward her. I did like the way that he went to Mattie and told her about Brett. I loved her response to him and the way that she opened his eyes to his feelings and what's important.
My only complaint with the book has nothing to do with the story but with the publisher. The Harlequin editors still refuse to properly capitalize Marine when speaking of members of the United States Marine Corps. Every time they get it wrong it pulls me out of the story and that just irritates me.