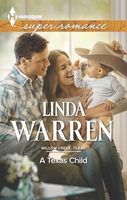 Series:
Willow Creek Texas
(Book 3)
To save a child

Regret. Assistant District Attorney Myra Delgado knows all about it. She's spent seven years regretting a foolish betrayal of her ex, Levi Coyote. But now Myra needs Levi, a private investigator, and the stakes are bigger than their history -- a baby has been kidnapped. And only Myra is brave enough -- or crazy enough -- to go after a Mexican drug lord and attempt a rescue.

Levi might not be able to forgive her, but he can't let Myra face the danger alone. As they work to save an innocent child, he learns a shocking truth about their shared past. If they make it through this, he and Myra just might get a second chance at not only love, but family.
Very good book. Myra and Levi have quite a past together. She and Levi had been in love years earlier. Because of some personal fears Myra made a mistake that Levi saw as a betrayal. Now she needs his help to rescue a kidnapped baby. They have to put their past aside and work together which isn't easy for either one of them. As they get closer to their objective they find that maybe those old feelings aren't so dead after all.
I really liked Myra even though she frustrated me at times also. Seven years earlier she was a brand new lawyer in the D.A.'s office. She had a fantastic relationship with Levi. She loved her job which brought her more satisfaction than the wife and mother role her mother had been pushing her toward. When she took an action that she felt protected her job Levi saw it as a betrayal and broke things off, cutting all contact with her. Now she's an ADA in need of Levi's skills as a PI and has to face him for the first time. I loved the courage that she showed in facing him especially with his nasty attitude toward her. She wasn't going to let him stop her from going after the baby even if she has to go alone. Working together brought them closer and gave Myra the chance to finally tell Levi everything that had happened all those years ago. When they finally found the baby, Myra had to face another one of her fears. For all this time she has refused to allow herself to think about having children. She feels that she would not be a good mother because she wouldn't have any idea what to do with a child. She allows those insecurities to affect the way she looks a baby Daniel. I loved seeing how good she is with him when she allows herself to relax around him and ached for her when she allowed her fears to get in the way. Her realization that she still loved Levi just added to her misery. I loved seeing the way she faced her fears and finally got what she wanted all along.
Levi is a good man and an honorable one but he is also a stubborn one. When he makes up his mind about something he just doesn't change it. His feelings for Myra turned to hate after what he felt was her betrayal of him. At first he refuses to work with her to find baby Daniel, but his conscience won't let him ignore the danger the baby is in or that Myra would be in going after him alone. He didn't expect to find himself still attracted to her and his feelings growing more confused. It got even worse when he finally listened to her explanation and realized what a jerk he had been. I loved seeing how protective he was of Myra even as he was fighting his feelings. Levi was very comfortable around Daniel and great at taking care of him. He could see how good Myra was with him and couldn't understand why she was putting her job ahead of having a family of her own. I really enjoyed seeing Levi and Daniel on the ranch, especially when they were dealing with Levi's grandfather. He was so much fun and had no problem speaking bluntly. I really liked seeing Levi step up at the end and then have the sense to go after Myra.