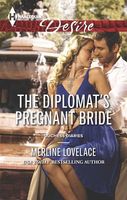 Series:
Duchess Diaries
(Book 2)
Will inconvenient pregnancy lead to convenient matrimony?

A wild weekend changes Gina St. Sebastian's life, but one thing won't change -- her marital status. Ambassador Jack Mason, the dashing, arrogant father of her unborn baby, can forget about a marriage of convenience. She's perfectly capable without him. Never mind the heat between them. That's pregnancy hormones!

Jack will deploy his formidable charms to do what's right -- marriage for the baby's sake. Yet the more he tries to convince Gina, the more he realizes he wants her as much as he wants his child….
Very good book. We first met Gina in A Business Engagement, as Sarah's flighty younger sister. At the end of that book, Gina has called on Sarah for help after finding herself pregnant with Jack's baby. Gina has decided it's time for her to grow up and face her responsibilities. She's decided on a career and feels quite capable of raising her baby on her own. Jack wants Gina to marry him right away for the baby's sake. It doesn't hurt that he's hot for her too.
Gina was great. She's been pretty flighty and definitely ready for a good time. She had a really great weekend with Jack but wasn't expecting anything more. Finding out she was pregnant really freaked her out and she panicked, leaving him a somewhat incoherent phone message before fleeing to Switzerland. While there she calmed down and decided to get her life in order and raise the baby. She didn't expect Jack to come tearing after her and propose that they get married right away. Gina still feels the same attraction for him, but she's not going to marry a man she doesn't love and who certainly doesn't love her. She knows that he's still hung up on his late wife and that's not what she wants in a marriage. I loved the way that Gina had enough respect for herself to stand up to Jack. She wasn't going to settle for anything less than what she felt she deserved. I also liked the way that she went after the job she wanted on her own merits not by getting assistance from people she knows. I enjoyed seeing the way that Gina did her job so well and earned the respect of her coworkers. There are a couple places that made me laugh out loud. One was when she was every inch the Grand Duchess's granddaughter and told off Jack's chief of staff. She stood up to Jack's father quite well too. I also liked seeing how Gina and Jack spent time together and got to know each other. This enabled Gina to realize that she was falling for Jack. She suffers from a bit of an inferiority complex when she compares herself to his late wife and that makes her doubt their chances even more. I loved her reaction to Jack's confession right before they were attacked. It was great to see how things finally worked out for them. I hope we get to see them again in the next books.
Jack is determined to get Gina to marry him. He hates the idea of his child not growing up in a family. However, he makes the mistake of thinking that Gina would be fine with a marriage of convenience. Jack had been deeply in love with his wife and doesn't expect to ever love like that again. He has been trying everything he can think of to get Gina to say yes and she refuses every time. His frustration is pretty satisfying since he's being an idiot. I liked the way that he decided to back off on the demands and just try to stay involved with her. I loved seeing him come to respect her the more he got to know her and see her work. It was great to see him step in a play bartender for awhile at one of her events. He also discovered that he was thinking less about his wife and more about Gina, admitting to himself that maybe things hadn't been as terrific as his memories made them. It was great seeing him stand up for her against his father, and I loved the jealousy that popped up around Gina's cousin. The kidnapping scene had me really confused about whether Gina's cousin was a good guy or a bad guy. Loved the conclusion to that bit of drama.
There's also a nice setup for two more books in the series -- can't wait!